Posted by Margaret Kao on 3rd Feb 2021
To successfully incorporate sustainability as a pillar of a business demands creativity, resourcefulness, and more often than not, innovative partnerships. As KoverRoos works to expand our sustainability efforts, we are constantly awed by those in our industry who hold themselves to a high standard of sustainability. We are taking notes and learning from those who are doing it best in our industry.
The first highlight in our sustainability series is Room & Board's Urban Wood Project, a vital part of The Baltimore Wood project, which utilizes unique partnerships to bring economic development to the city's underprivileged, while also addressing the problem of wasted urban wood and land restoration. This project is a prime example of sustainability done right, albeit not without its challenges.
The Urban Wood Project began in 2017 when the US Forest Service in Baltimore approached Room & Board about finding a use for reclaimed and urban wood. Reclaimed wood is lumber salvaged from vacant buildings and homes, while urban wood is wood sourced from trees lost to disease and urban development. While this alone would be a project worthy of replicating, the true heart of the story lies in a third partnership. To salvage the material from vacant homes, the Baltimore Wood Project turned to Humanin, a social services enterprise that creates jobs for people with barriers to employment, ranging from previous incarceration to a lack of education. Details Deconstruction, works to deconstruct and remove a building, while salvaging what they can. The materials are then sent to Brick & Board, to be sorted and prepared for use.*
Baltimore has more than 16,000 vacant properties, including 4,000 rowhomes. By deconstructing these homes, Baltimore Wood Project helps to divert thousands of pounds of materials from landfills while also providing jobs to those who would otherwise struggle to find employment. These jobs provide a living wage and valuable skills training. According to Baltimore Wood Project, deconstruction creates 6-8 more jobs than demolition, but is also cost competitive. Thus, an all around value chain has been created.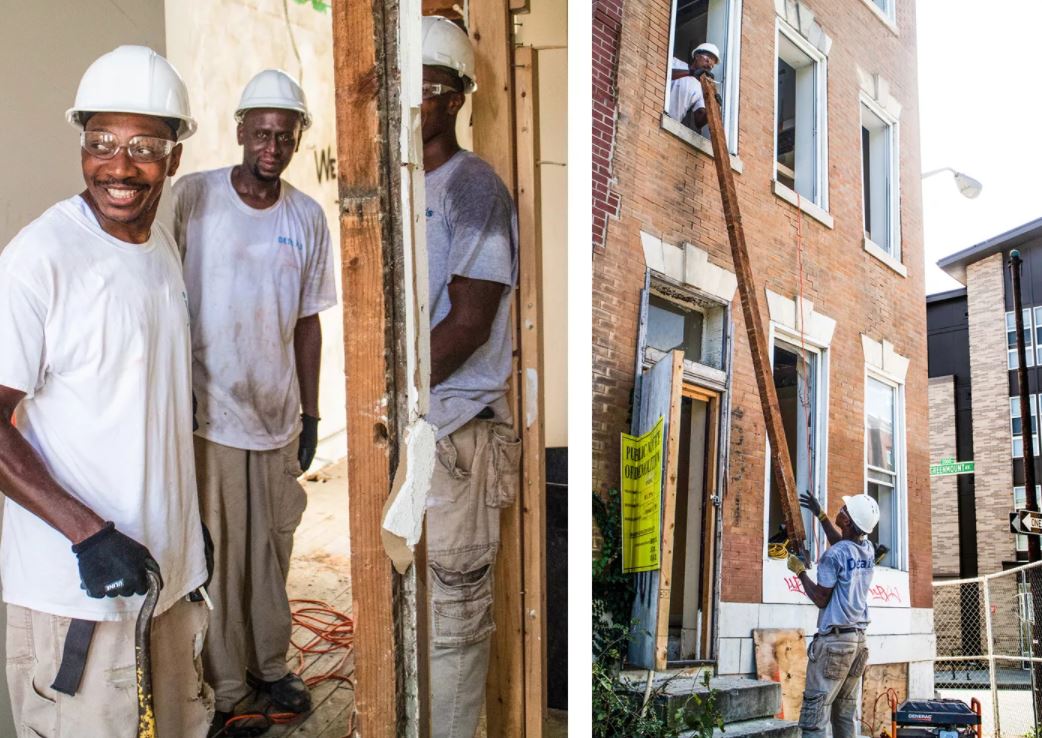 Photo from Room & Board. (left) Each deconstruction project creates 6-8 times more jobs than a demolition project in Baltimore. (right) Crew members from Details Deconstruction carefully remove joists from a row home.
Despite seeing success with the project, there continues to be challenges that have to be tackled. The KoverRoos team had the chance to speak with Steve Freeman, the vendor resource manager at Room & Board who has been heavily involved with the project. The passion and dedication he shared for the project was palpable, and it was very clear how much this project meant to him and his team. Steve also shed some light on some of the obstacles they face from a business and sustainability standpoint.
Although the wood being salvaged is technically free, removing nails, finishing, and sanding, oftentimes could prove to be more expensive than traditional wood. Many craft manufacturers have small operations that cannot handle the volume needed. Salvaged wood has a varying scale of quality and aesthetics can make it difficult to make consistent pieces. Lastly, there is no existing way to certify reclaimed wood. Neither Sustainable Furnishings Council nor Sustainable Forestry Initiative have a certification of urban wood.
Today, the Baltimore Wood Project is intended to be replicated in other cities, where they can continue to add value and scale the supply chain of urban and reclaimed wood, while creating economic development for people with employment barriers. Already, Room & Board has expanded the Urban Wood Project to Detroit, where they are using reclaimed wood to make products ranging from bowls to cribbage boards. They have plans to invest even further in the project by potentially sourcing dimensional lumber from fallen/cut trees in urban spaces.
*Brick& Board used to be an arm of Humanim, but is now a for profit entity that is still dedicated to creating opportunity for those with barriers to employment
Sources:
https://www.roomandboard.com/about-us/craftspeopl...
http://baltimorewoodproject.org/
Thumbnail photo from Room & Board